Magnus Öström mit "Thread of Life" in der Unterfahrt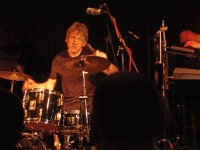 Mehr als ein Trommler: Magnus Öström (Foto: Michael Wüst)
Magnus Öström war der Schlagzeuger des berühmten Trios EST. Bis zu jenem tragischen Schicksalsschlag im Jahre 2008, als Esbjörn Svensson, Pianist des Trios, bei einem Tauchgang ertrank. In der Unterfahrt, wo EST im Jahre 2000 ein legendäres Konzert gegeben hatte, stellte Magnus Öström nun seine neue CD "Thread of Life" vor. Ein Abend von Melancholie, Kraft und: Konsequenz.
"Thread of Life", der Lebensfaden. Faden auch, an dem das Leben hängt. Lebenslinie, die über den Tod hinaus geht, sich weiter zieht. Magnus Öström lässt dazu ausschließlich seine Musik sprechen. Schon das erste Stück, eine freie Improvisation, stimmt, ähnlich wie "Prelude" von der CD, die Zuhörer ein, scheint gesunkene Glocken klingen zu lassen.
Eine klangliche Exposition dessen, was sich im Verlauf eines zugleich ernsten und atemberaubenden Konzerts ereignen wird. Neben Magnus Öström steht Andreas Hourdakis an der E-Gitarre, dahinter am E-Bass und Synthesizer Thobias Gabrielsson. Leicht abgesetzt links, an Keyboards, Flügel  und Vocoder-Mikro, Gustaf Karlof. Im Zentrum der Intensität Magnus Öström.
"Afilia mi", gewidmet der Tochter von Öström, beginnt im Gegensatz zur CD den Abend. "Piano Break Song", eines der Stücke, die am Eindringlichsten das Auferstehungsprinzip in der Kunst repräsentieren, das zweite auf der CD, wird krönender Abschluss sein. Ein Bogen, ein Rondo, was auch hier formal zeigt, wie erweitert der Jazzbegriff bei "Thread of Life" zu sehen ist - hineingezogen in ein dramaturgisch Ganzes.
Unermütlich hält Öströn die Spannung. Kaum je geht sein Spiel mit melodiösen Entwicklungen explizit mit, er bebildert nicht. Wenn überhaupt könnte man von einem festen Gewebe sprechen, das er zugrunde legt. In einfachen vier Vierteln findet sich das nie. Die Dynamik des Öströmschen Gewebes besteht in einer Bewegung zwischen benachbarten geraden Taktarten, in der Durchquerung über ungerade Strecken. Das führt zu bohrenden Wiederaufnahmen und bildet zwischen Kette und Schuss die Dichte eines Teppichs. Auf diesem Teppich vermag Andreas Hourdakis in allerdenklichster Weise zu navigieren, sich zu reiben, zu widersprechen, aufzulösen. Trotz aller provozierten Spannungen ist das Gesamtgefüge fest, es verfestigt sich ununterbrochen. Melodisch gesehen bewegen sich die Stücke im Liedhaften. Sie verströmen eine Art psychedelischen Impressionismus, typisch durch den Einsatz vom Synthesizer des Bassisten Thobias Gabrielsson und der Fusion-Melismatik von Gustaf Karlof an Keyboard und Vocoder.
"Balad for E" wird auf der CD auf der akustischen Gitarre gespielt von Pat Metheny. In der hymnischen Einfachheit von Melodie und Harmonik glaubt man, wie so oft bei Pat Metheny, irgendwelche bekannten Süßlichkeiten heraus zu hören, um daraufhin gleich wieder umgelenkt zu werden. Kaum jemand spielt die Akkorde reiner, himmlischer, "harfiger". Dies ist unmöglich auf der E-Gitarre zu erreichen. Dennoch gelingt Andreas Hourdakis diese Hymne mit anderen Mitteln. In dem einfachen Thema werden die musikalischen Stufen zur Himmelsleiter. Unnachgiebig erklimmt das Stück Stufe um Stufe und überwindet die Krisen der Alterationen. Man ist erinnert an Horace Parlan's "Lament for Booker Erwin", wie an das berühmte "Naima" von John Coltrane. Konsequenz und Intensität.
Als vorletztes Stück: "Between". Gustaf Karlof, am Flügel, spielt ein Thema von nordischer Tiefe. Man denkt an Edvard Grieg. Von einem gleich bleibenden Ostinato-Leitton ausgehend, fällt das Thema in ruhige dunkle Folgen von Moll- und verminderten Akkorden. Und Karloff scheint ganz weg zu sinken. Sekundenlang versucht Öström den Augenkontakt, ein Change scheint anzustehen. Klappt nicht, Öström grinst versonnen, da kommt der Change.
Als Herbie Hancock 1968 "Water Torture" veröffentlichte, waren Magnus Öström und Esbjörn Svensson noch nicht einmal im Kindergarten. Ein weiter Weg. Er hat sich gelohnt. Mehr noch: er kann nur weiter gehen. "Thread of Life".
Nachtrag (6. Mai 2011). Ein Interview zu diesem Konzert finden Sie hier.